Yes I just said "Brmm Brmm" like a little kid. I specifically picture my 3 year old nephew saying it while pushing a car or fire truck down the hallway (He's all boy!). Chevron print = Chevy car - ya get??? Hehe ... Ok, maybe I tried to hard on that title but oh well here it is - my blog on CHEVRON. You had to know that there was going to be a blog soon that featured the great print of Chevron. It is everywhere now a days... on our pillows, on our throws, on our rugs, on our earrings and on our tissue boxes (which I have to admit it looks really cool on a tissue box, who knew?!?!?). So where can us "thrifty" shoppers and designers find this fun pattern at a fun, affordable price - Overstock.com!
Here are some great rugs I found on their site and I was totally impressed by their prices:
This one comes in black or brown and it is an 8'x10' for only $153.99! Click
HERE
for the link. This Chevron is a little smaller than the ones you see on the design blogs and in magazines; however, it is a great affordable alternative. I love that it comes in brown also! I definitely plan on buying this for our new house...picturing it in my office.
For a more distinct Chevron pattern than you might like this rug more: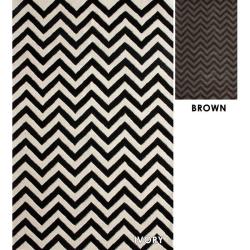 The above rug can also be found at Overstock.com for the amazing price of $210! It is a 5'x8' rug size and I love it's bigger distinct pattern. Click
HERE
for the link.
Check out these great "Chevron" rooms for inspiration:
Can you say "Hello, pink chevron - where have you been all my life?!?" Love it!
Here is a great alternative to the Chevron - a zip zag rug. Side note: don't you love the black and white Ikat pillows on the couch :)
Traditional room and a touch of chevron on your pillow:
Here's a fun room with lots of textures and prints! The Chevron serves as a great neutral in this room:
Chevron window treatments - why not!!!!
I absolutely adore Chevron in this nursey:
Hope you enjoyed our tour of Chevron and hope you have a great Sunday!!!!